Optus
Brought in as a tone of voice writer, I was tasked with rewriting various marketing collateral in the new tone of voice. I worked on web copy, direct mails, eDMs, SMSes, digital banners, FAQs, brochures, and other campaign-based collateral.
ResMed
Working with the global branding team, I led the initiative for defining ResMed's global tone of voice, which was rolled out across Europe, the US and APAC; adapted for B2B and B2C audiences; and translated in over 20 languages.
FarmaForce
FarmaForce's visual identity was edgy and distinctive, but it's tone of voice wasn't. My role was to bring the TOV up to speed with the visuals, to create a strong presence that stands out from the crowd.
Advert for COPD Day campaign (B2B)
The tone of this piece is quite grave. COPD (chronic obstructive pulmonary disease) is a life-long breathing condition. But research has emerged to help sufferers better treat their condition and make their remaining days as comfortable as possible. It's that new treatment option that provides some hope in a grave situation. So the tone is clinical yet hopeful.
Excerpt from Parent Guide for a paediatric healthcare product called Pixi (B2C)
The audience is parents of children who have illnesses that require them to wear breathing masks while they sleep, so the tone is intended to be informative, but also warm and reassuring to parents going through a difficult time. The parent guide was also accompanied by a story book for children, about a little girl who also need to wear a mask; a Pixi soft toy; and Pixi colouring books for kids. So all in all, the marketing for this product was understanding and supportive.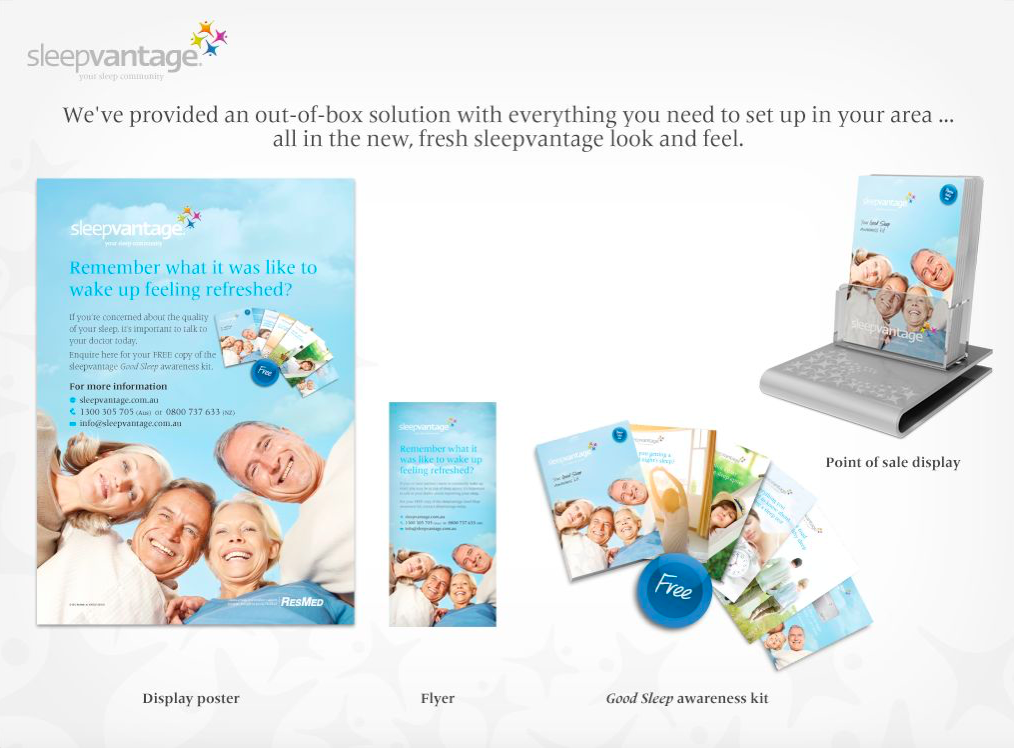 sleepvantage
As the lead copywriter on the rebranding of the sleepvantage patient support program, my work included: new tagline, messaging, style guide and rationale, patient information kit (multiple brochures, membership form and card), website and tailored webcopy, launch activities, sales tools (for the iPad), EDM, launch and ongoing programs.